What is B2B (business-to-business)?
B2B (business-to-business), a type of electronic commerce (e-commerce), is the exchange of products, services or information between businesses, rather than between businesses and consumers (B2C).
A B2B transaction is conducted between two companies, such as wholesalers and online retailers. In most B2B business models, each organization benefits in some way and typically has similar negotiating powers.
By 2027, global B2B e-commerce is forecast to reach $20.9 trillion, representing a CAGR (compound annual growth rate) of 17.5% during the forecast period (2020-2027), according to Grand View Research.
B2B is conducted via different categories of websites, such as the following:
Company websites. The target audience of a company website is the business clients and employees of other businesses. Think of B2B websites as round-the-clock mini-trade exhibits. Sometimes, a company website provides an entrance to an exclusive extranet, available only to customers or registered users. Some company B2B sites sell directly from the B2B website to other businesses.
Product supply and procurement exchanges. These exchanges allow a company purchasing agent to shop for supplies from multiple vendors, request proposals and, in some cases, bid on products. At times called e-procurement sites, some serve a range of industries while others serve a niche market.
Specialized or vertical industry portals. These portals provide dedicated information, product listings, discussion groups and other features for specific businesses. Vertical portal sites have a broader purpose than procurement sites, although they may also support buying and selling.
Brokering sites. These sites act as an intermediary between service providers and potential customers that need their specific services, such as equipment leasing.
Information sites. Sometimes known as infomediaries, these sites provide information about a particular industry to companies and their employees. Information sites include specialized search sites and those of trade and industry standards organizations.
Many B2B sites fall into more than one of these groups. Models for B2B sites are still evolving, however.
Another type of B2B enterprise is software for building B2B websites, including tools and templates, databases, methodologies and transaction software.
THIS ARTICLE IS PART OF
DOWNLOAD1Download this entire guide for FREE now!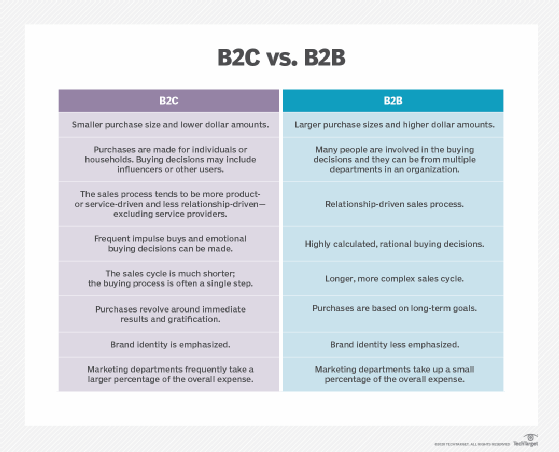 How does B2B work?
In B2B, one business sells a set of products or services to another business. Typically, there is a group or department that uses the vendor's products and services. Occasionally, a single user on the buyer side makes a transaction in support of the company's business goals. And some B2B transactions involve the entire company's use of the products, such as office furniture, computers and productivity software.
For larger or more complex product purchases, the B2B product selection process is handled by a buying committee, including:
a business decision-maker, such as the person responsible for the budget;
a technical decision-maker, or someone who evaluates the capabilities of the prospective products; and
influencers, such as individuals who provide input on the decision.
Large purchases might involve a request for proposal, in which the buyer invites prospective vendors to submit proposals detailing their products, terms and pricing.
Why is B2B important?
B2B is important because every business needs to purchase products and services from other businesses to launch, operate and grow.
A company's B2B suppliers offer office space, office furniture, computer hardware and software, and so on. The food that companies stock in their kitchen and the signs displayed on their office building are purchased from suppliers.
Types of B2B companies
There are several types of B2B companies, including the following:
Producers design, create and manufacture their own products. Producers may sell their products directly to businesses or indirectly through retailers or resellers.
Retailers and resellers sell products and services made by other companies directly to businesses. Retailers and resellers may sell online, from physical stores or both, including B2B e-commerce vendors.
Agencies and consultants provide advice, oversight and subcontracted work to businesses. For example, an advertising agency manages and executes a multimillion dollar advertising budget for a consumer brand. A website agency designs and builds a website and mobile app for the same brand.
B2B industries
B2B companies operate in many industries, such as:
Financial services
Technology
Manufacturing
Construction
Retail
Telecommunications
Insurance
Healthcare
Education
Engineering
Marketing and sales
Real estate
Food and beverage
Benefits of B2B
The following are benefits of B2B:
Large average deal size. A B2B company can grow sales with a smaller number of high-value deals compared to a B2C company, which may require thousands or even millions of individual sales. Since B2B companies sell and buy in bulk, the average B2B transaction is about $491, as opposed to $147 for a B2C sale.
Higher switching costs. B2B customer loyalty is likely if they are satisfied with the product and service. In contrast, B2C customers can be finicky and not loyal, resulting in large churn rates.
Large market potential. B2B companies can target enterprises across many industries and geographies, resulting in a big playing field. Or they can specialize in one industry, such as technology, and become leaders in that field.
B2B organizations advertise their products and services and conduct business online, making it easy for clients to place bulk orders via an efficient digital transaction model.
Faster delivery. Because B2B e-commerce tools make the sales process efficient for sellers, they accelerate the process for buyers. Integrated systems enable the transacting companies to sync data across channels, automate fulfilment and inventory updates, and manage complicated orders.
Built-in order management Cloud-based e-commerce platforms easily integrate with back-end systems or order management systems. This enables B2B sellers to synchronize order inventory and customer data across every channel.
B2B challenges
B2B e-commerce has some challenges, such as the following:
Long-term customer retention. B2B companies often have a difficult time convincing buyers to make repeat purchases.
Limited market. Although B2B companies can target organizations in many industries, the business market is still limited in size. This makes B2B particularly risky for small and midsize B2B organizations.
More competitive. Since the B2B market is small, it's competitive.
Longer decision-making process. Decision-making in business can be slow because many stakeholders are involved in the process.
Price negotiation. Since B2B buyers purchase in bulk, they typically negotiate for better prices, ask for discounts or demand extra services.
E-commerce supply chain management can be complicated. This is especially true when multiple partners are involved in the supply chain and they all need access to the same information. Miscommunication at any point in the supply chain can slow down the process.
What are examples of B2B companies?
Here are some examples of B2B companies:
Amazon
Amazon, one of the best known B2C companies, also has a B2B business called Amazon Web Services (AWS). AWS provides compute power, database storage, content delivery and related features to businesses. It is one of the leading cloud providers with customers such as GE, Hess, Expedia, Philips and BP. AWS Cloud spans 80 availability zones within 25 geographic regions, globally.
Caterpillar
Caterpillar manufactures construction and mining equipment, diesel and natural gas engines, industrial turbines and diesel-electric locomotives and sells these products to other businesses. The company also provides financial services to businesses through its Caterpillar Financial Services business unit.
Alibaba
Alibaba is one of the world's largest online commerce companies. The Alibaba B2B marketplace is where buyers and sellers worldwide connect and transact business.
Quill
Owned by Staples, Quill is a B2B e-commerce company that sells office supplies to small and midsize businesses. Quill markets over 100,000 products under the Quill brand, as well as under the Medical Arts Press, Mead, Coastwide, Snack Jar and Java Roast names.
Upwork
A job search platform, Upwork connects freelancers with employers on projects such as web and mobile app development, social media marketing, content writing, graphic design and more.